Welcome to Brynmill Park
Always a popular attraction for the local community Brynmill Park began to fall into some disrepair through the 1990s and early years of new millennium. However, Brynmill Park is steadily being recreated and improved thanks to the hard work of the Swansea City Council Park Officers and generous grants provided by the Heritage Lottery fund.
The Park is fun for all ages, but is especially fun for youngsters, check out the Park activity for youngsters at Junior Park Rangers for loads of events and activities at Brynmill and the other parks in Swansea!
---
Latest News:
Easter is coming, and we're going to celebrate as usual! Get your bonnets on and come over on the 19th April at 1pm to join in the fun!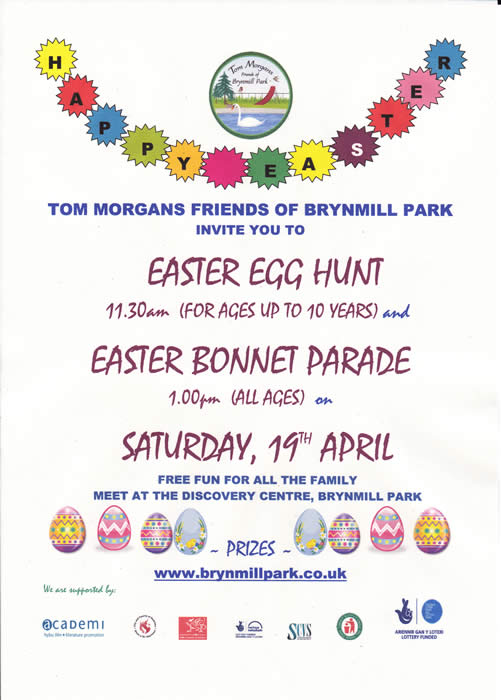 Go to the gallery page for photos of our 2013 event!!!!
Thanks to the huge efforts of the Friends Of Brynmill Park committee, especially Ann Jones (our secretary), the National Lottery's Big Lottery Fund
has awarded the park a grant of £2665 to fund our events and promotions!
This is what we were hoping for on the 6th.... these are some of our committee members having a rehearsal.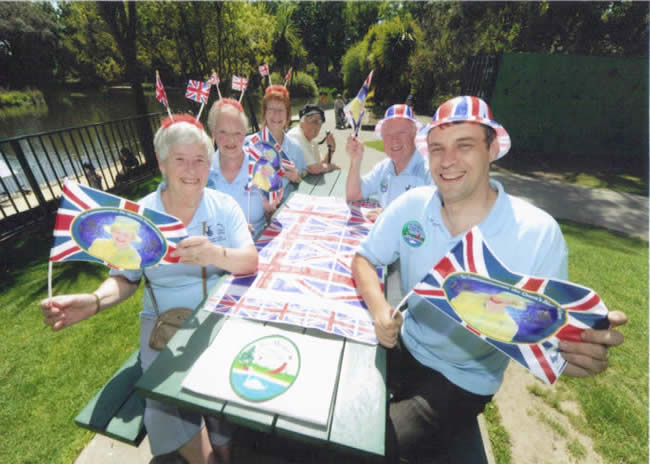 Our Jubilee Day on June the 9th has been cancelled. We're bitterly disappointed but the ground is just too wet to deal with.
And as the weather for the next 24 hours looks set to be very bad we've had to accept advice to postpone the event.
We're going to try again on September the 8th.

Our calenders are now on sale! If you live locally in Brynmill you'll have seen them about in various outlets. You can also find them in Waterstones (priced at £5.99) in Swansea. Or you can get in touch with us here on our contacts page to order one and we'll post one out to you!
Many thanks to CEM Day Ltd!
The giant motor concern held a charity golf tournament at the Pontardawe golf course and very kindly donated £100 to the FOBP group, thanks for your kind generosity guys!
A message from Jan, our Membership Secretary;
Recently we held a "Poems in the Park" event, when a local Welsh poet, Clare Potter, was engaged to take groups of school children around the park, encouraging them to write about what they were seeing, hearing, feeling, etc. Some of poems produced by eight to nine year-old Brynmill Primary schoolchildren are now on display in the Park's Discovery Centre. Do go along and have a look if you can. They are amazing!
Unfortunately, we could not find the resources this year to hold a summer Fun Day. We were really sorry to disappoint the many people who were looking forward to it and will try hard to find the means to put one on next year.
Brynmill Park gets national coverage!! Have a look at this link;
Its your Park!
Want to stage an event or happening?
Got an idea for a happening?
Tell us: Please get in touch via this web page or drop a note into the suggestion box in the discovery centre and
we'll probably be able to make your ambitions come true!
Oral History Project.
Have you got any memories of the Park?
Do you drift away into a warm glow of nostalgia when you remember your Mum or Dad taking you to see the old menagerie or going to feed the ducks on a Sunday afternoon?
Did you and your beloved sneak away for a crafty snog amongst the flower beds?
Want to share ( be careful if its the latter sort ) those memories?
If so we're going to launch an oral history program to record all these precious moments. We have got ourselves a digital voice recorder (thanks to those grants mentioned below) and we're going to start a collection of verbal histories which we can store and use (maybe we can stream them from this web site) so everybody can share your experiences of the Park. Contact us via this site's 'contact' page and tell us all.... We promise not to sell it to one of the tabloids, honest!
Grant Applications
Tom Morgans Friends of Brynmill Park have managed to secure a number of grants to allow us to continue to promote the use of the Park for recreational and educational uses. We were fortunate in securing money from the 'Tidy Towns' organisation that will allow us to purchase liability insurance for a number of events during the next year. They've also provided kit for keeping the park tidy. Feel free to volunteer to help use this kit!
Other monies are in the pipeline and our plans include the purchase of small public address system and a digital voice recorder so we can record peoples memories of the park from the past to the present. Again, if this is of interest to you, please get in touch!